2019 Honda Ridgeline Model Information
A great truck delivers wonderful capabilities, utilities, performance, and safety amenities. Luckily, here at Honda of Bellingham, we have a truck that checks all the previous boxes. This is the 2019 Honda Ridgeline. Best of all, we have so much information to offer customers. Below is our 2019 Honda Ridgeline Model Information. Read through and then bring questions to Honda of Bellingham today.


Engine: 3.5L V6
Horsepower: 280hp
Torque: 262 lb-ft
Transmission: automatic
2019 Honda Ridgeline Capabilities Model Information


Capabilities are not always related to driving. Not when it comes to our 2019 Honda Ridgeline Model Information. Instead, this deals with storage space and outdoor capabilities. Start with interior storage. There is a big center console that can fit small phones and large tablets all the same. Plug in your phone and let it charge right up. Best of all, this is just the start of all the wonderful and impressive capabilities in a new Ridgeline.

Wheel wells are made smaller than ever before on the new Ridgeline. Why? Because then you can optimize the truck bed space. Open up more space for all of your needed cargo capabilities. In some cases, a Ridgeline might just offer an available 150W/400W truck bed outlet. Plug in various electric appliances ranging from a drill to a television. Do whatever you need to do outdoors or just provide your family with a fun experience!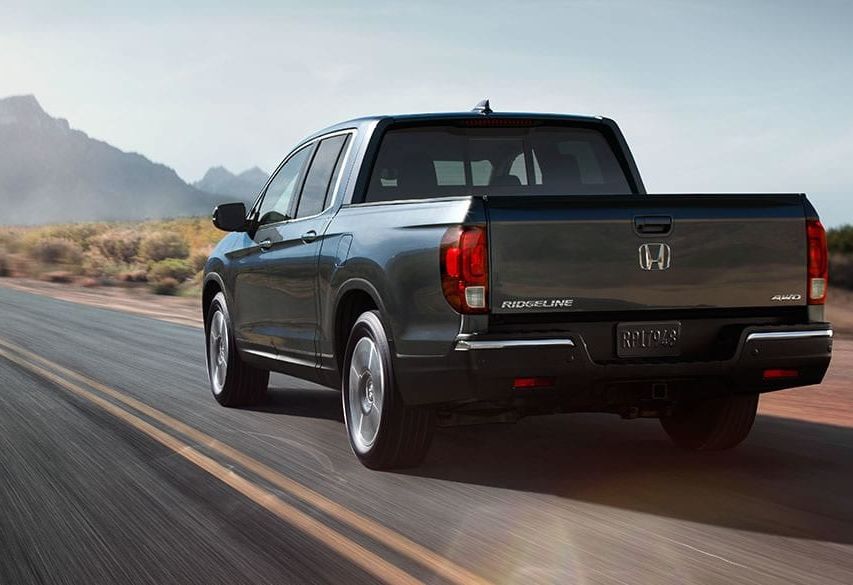 The 2019 Honda Ridgeline is full of surprising capabilities.
Utilities of the 2019 Honda Ridgeline


Utilities are key when it comes to life out on the open road. Sometimes, these utilities come in different forms. This can come in the form of convenient utilities, comfortable utilities, and even technology. Start with the dynamic color display. This an amazing 4.2-inch color multi-information display. View all essential vehicle information right on this screen. Ranging from your current miles per hour, gas mileage, and so much more. Stay in tune with your new Ridgeline at all times.


Right on the steering wheel are multiple steering wheel-mounted controls. This is one of the more convenient utilities. You control a number of features right from the steering wheel. Adjust your cruise control speed out on the open road. Reset it with just press of a button. Adjust the volume of music and even change the song. So much is possible thanks to this particular utility.


Put the new Ridgeline into reverse and a live-feed of the rearview area appears right in the dashboard. You see everything right behind you. Thus, backing out of a super busy parking lot is a breeze. Avoid the hassle that comes with limited visibility. Each and every single utility inside of a new Ridgeline builds towards a great driving experience.


Performance & Safety of the 2019 Honda Ridgeline


The 2019 Honda Ridgeline is built with some impeccable performance features and a robust engine. The standard engine option is the 3.5 liter V6 engine. This particular engine produces 280-horsepower and 262 pound-foot of torque. Not to mention that it comes with a six-speed automatic transmission. This results in a potential towing capacity of 3,500 pounds. Get those tough outdoor jobs done with this incredible hauling capabilities.

Unit-body construction delivers a design for the Ridgeline that is unmatched. This feature a single molded unit for the body panels and chassis. Thus, the design is much lighter when it comes to the overall weight. But it is also much more durable. Therefore, you get the best of both out on the open road. Obviously, the durable design is built to last for a very long time. On the other hand, the lightweight design saves fuel and enhance the fuel economy.



2019 Honda Ridgeline Safety Model Information


What is performance without safety? As a result, the new Ridgeline delivers on safety. Start with the road departure mitigation system. This feature uses a small camera on the front end. This camera recognizes the road markers ahead. Then, you receive alerts if you being to drift from the road. Furthermore, the Ridgeline even comes with a lane keeping assist system. This will actively adjust steering just in case you fail to return to the center of the lane! Both keep you safe and are an important part of our 2019 Honda Ridgeline Model Information.

Look to Honda of Bellingham if you want more information on the brand new 2019 Honda Ridgeline. We are able to offer so much more. Our details go far beyond just this 2019 Honda Ridgeline Model Information. Take time to come and visit us in person. Our address is 2010 Iowa Street, Bellingham, WA 98229. We also welcome customers to call us by phone at 866-455-8489. Let Honda of Bellingham help you today.


© Copyright Content Motive, 2019.
All Rights Reserved. | Dealer SEO services Content Motive