2019 Honda Insight Model Information
Here at Honda of Bellingham, we help customers find the best cars for their specific needs. After all, every customer is different, and they all want different kinds of cars. Customers craving efficiency, performance, and versatility should read our 2019 Honda Insight Model Information below. We believe that the brand-new Honda Insight is great for you. Contact our dealership today for an easy car buying experience and more!


Engine: 1.5L four-cylinder
Horsepower: 151 total hp
Torque: 99 lb-ft
Transmission: ECVT
2019 Honda Insight Model Performance Information


Inside of the 2019 Honda Insight is an exciting engine that is thrilling and economical. A 1.5 liter Atkinson-cycle four-cylinder engine with an electric motor. As a result, drivers control excellent horsepower and torque. You can have fun out on the open road without having to visit gas stations every couple of days. Instead, drivers get the best of both worlds with a 2019 Honda Insight.

The most impressive part of driving a 2019 Honda Insight involves choosing your preferred versions of efficiency. Drivers can pick between ECON Mode and Sport Mode. The Sport Mode obviously provides an enhanced sense of power and speed. On the other hand, the ECON mode prioritizes saving as much energy as possible. Control your entire driving experience behind the wheel of a new Honda Insight.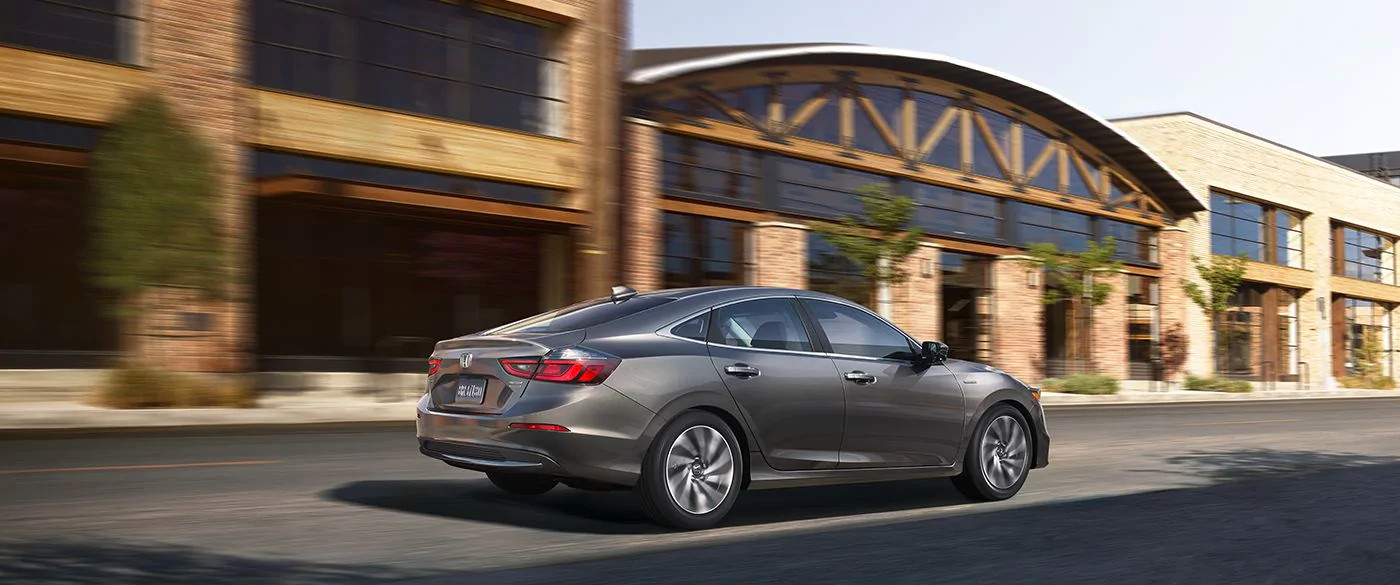 Efficiency is paramount in the 2019 Honda Insight.
Design Features of the 2019 Honda Insight


Part of the 2019 Honda Insight Model Information deals with the thoughtful and sleek design. A brand-new Insight is built to look and to perform well. Therefore, the interior is lush and comfortable while the outside is aerodynamic. Drivers enjoy the benefits of both designs with a new 2018 Honda Insight. So, if you want these offers then read more below!

First and foremost, the Honda Insight boasts a spacious and rich interior cabin space. Drivers enjoy finely stitched together materials that offer a distinct look. Plus, available leather seats offer up a serious amount of comfort. Drivers and passengers can relax and enjoy long rides thanks to these features. Therefore, customers should look into the new Honda Insight if they want a lush interior design.

The front end of the Insight comes with full LED headlights that both low-beams and high-beams. As a result, customers use the proper lights at the proper time. Late night driving is much safer using high-beam lights. Attractive character lines lead to sleek alloy wheels. Customers hit turns and sharp corners in premier style. If you want these features, contact our dealership today!


2019 Honda Insight Model Efficiency Information


The exterior of the brand-new Honda Insight is engineered for efficiency. Thanks to an aerodynamic design, drivers hit higher speeds with less energy. Therefore, customers save money on fuel and conserve energy! The engine and grille work together to decrease wind loss and the front bumper reduces wake as well. A flat underfloor helps streamline airflow underneath the Insight. That way, it is not fighting against the oncoming wind. Contact our dealership for more information today.

Important pieces of the powertrain are the hybrid batteries. These hybrid batteries power and provide the power for the electric motor. That way, customers can enjoy a reliable source of energy for their electric motor. Thus, Honda ensures that there is a warranty for long-term use. Customers can enjoy both a premier driving experience and premier servicing if necessary!



Connectivity of the 2019 Honda Insight


Modern drivers expect a certain type of connectivity in their vehicles. Thus, part of our 2019 Honda Insight Model Information deals with audio connectivity for drivers. After all, it is so much fun to listen to your favorite music while driving. So, the brand-new Honda Insight gives drivers both Apple CarPlay™ and Android Auto™. Drivers can hook up their phones to the system in five minutes or less. Then, you access all of your favorite applications and more out on the open road.

An available display audio touchscreen is the focal point of connectivity in a 2019 Honda Insight. Drivers use the previously mentioned connective features to hook their phones up to this system. Then, all of your phone's applications are accessible with the push of a button. Plus, customers can even check on their engine and battery utilization as well! Contact our team if you want more information on this Honda model and more!

If you want more 2019 Honda Insight Model Information, then just contact our dealership. Our talented team works hard to provide the smoothest car buying process possible. That way, customers can actually enjoy getting a new vehicle without any hassle. We encourage customers to reach out to us. Our team welcomes customers for a personal visit at 2010 Iowa Street, Bellingham, WA 98229.


© Copyright Content Motive, 2018.
All Rights Reserved. | Dealer SEO services Content Motive