2018 Honda Ridgeline Overview
This 2018 Honda Ridgeline Overview offers insight into what this truck has to offer. The 2018 Honda Ridgeline is a top-rated midsize pickup truck that is designed to push the boundaries of pickup-truck innovation, capability, and comfort. It boasts a bold and dynamic exterior and a refined and well-equipped interior with all the bells and whistles that you would want in such a truck. This truck is also inspiringly powerful and capable.


Engine: 3.5L V6
Horsepower: 280hp
Torque: 262 lb-ft
Transmission: automatic
2018 Honda Ridgeline Interior Overview


The 2018 Honda Ridgeline also offers a sleek and sophisticated interior that accommodates up to 5 passengers. Behind the steering wheel, this truck boasts a digital speedometer and a dynamic 4.2-inch full-color multi-information display that projects vehicle information in vivid illustrations. The dashboard of this truck also features sleek lines and metallic accents in all the right places, and in the higher trim levels, it also features a state-of-the-art 8-inch touchscreen display that pairs with the truck's audio system.

The cabin of the 2018 Honda Ridgeline is also remarkably roomy. It offers a total passenger volume of 109.7 cubic feet. The seats of this truck are also quite comfortable and supportive, even in the 2nd row, and they can be had with available premium leather upholstery.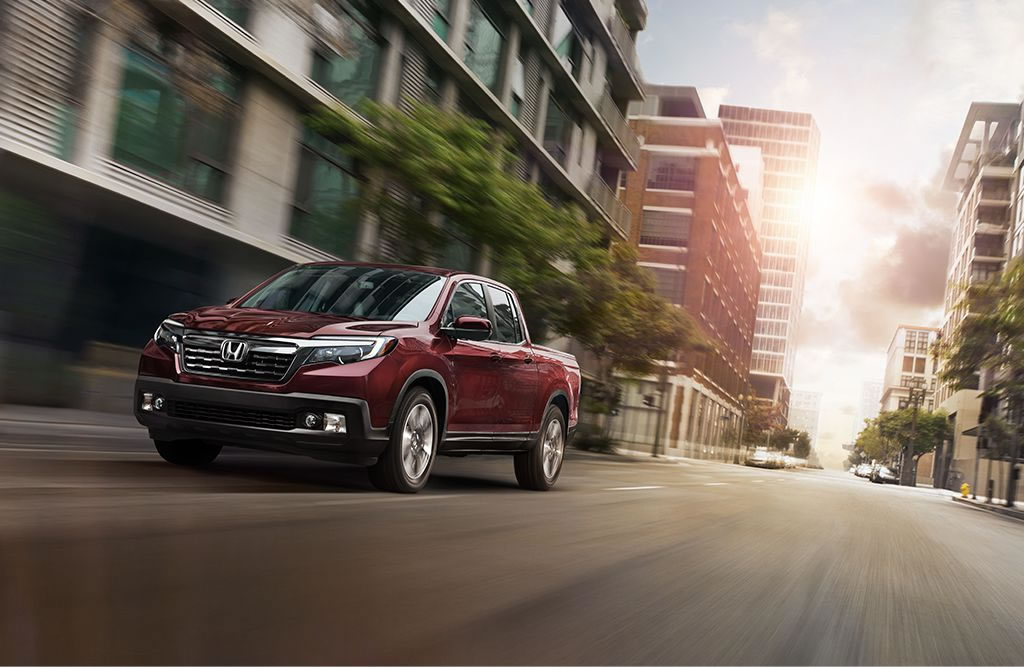 Impress on the road with the stylish design and performance of the 2018 Honda Ridgeline.
Style and Design of the 2018 Honda Ridgeline


The model in this 2018 Honda Ridgeline Overview differs from most other competing midsize pickup trucks in its body construction. Most competing trucks feature steel bodies that are built upon fully boxed steel frames. They also feature heavy-duty leaf spring rear suspension systems. This is not the case with the 2018 Honda Ridgeline.


The 2018 Ridgeline is instead based on Honda's global light truck platform – a solid, tightly sealed unitized body construction. It also features a fully independent MacPherson-strut front/multi-link rear suspension system like that of a car, only stronger. As a result of this car-like setup, the 2018 Honda Ridgeline delivers car-like driving dynamics. Its electric power-assisted steering system also delivers ample steering input in every driving situation, making it easy to steer the truck without using much effort.


Its suspension system is also tuned to deliver responsive handling and enhanced cornering control. This suspension system also incorporates amplitude reactive dampers that cushion the cabin occupants from the roughness of the road, resulting in a notably smooth ride.


2018 Honda Ridgeline Power and Capability Overview


The fact that the 2018 Honda Ridgeline has a car-like foundation does not limit its hauling and towing capability. This truck boasts a maximum payload capacity of 1,584 pounds – one of the highest payload capacities in its segment. This truck can also tow trailers that weigh up to 5,000 pounds, a commendable towing capacity for a midsize pickup truck. The 2018 Honda Ridgeline is powered by a direct-injected 3.5 liter i-VTEC™ V6 engine that generates 280-horsepower and 262 lb.-ft. of torque. This engine is capable of propelling this truck from zero to 60 mph in less than 7 seconds, making the Ridgeline one of the quickest trucks in its segment.

This truck can also be had with either front-wheel-drive or all-wheel-drive. The all-wheel-drive models feature an advanced Intelligent Variable Torque Management™ AWD system that is designed to improve traction on all road types while enhancing the truck's handling capabilities. This AWD system monitors prevailing driving conditions, checking for understeer, oversteer, or wheel slip. When it senses any of the above, it redirects more power and torque to the wheels that have better traction to help restore optimal traction. Therefore, when equipped with this AWD system, this truck can be driven with sure-footed confidence on wet or snowy roads and also on off-road trails.



Utility of the 2018 Honda Ridgeline


This 2018 Honda Ridgeline Overview also features a large cargo bed that is 64.0 inches long and 60 inches wide, so there is a lot that you can carry with this cargo bed. Its bed floor is raised to reduce the intrusion of the wheel wells into the cargo bed, and as a result, the bed offers more space for cargo. This cargo bed also features optimally placed heavy-duty tie-down cleats that you can use to secure cargo items of different types and shapes onto the cargo bed floor.

This cargo bed also features a unique dual-action tailgate that opens in two ways: downwards and sideways. When you want easier access to the cargo bed floor when loading things, you can open the tailgate sideways. When you need to carry extra-long items like 4-foot by 8-foot sheets of plywood, you can open the tailgate downwards. Another thing that this cargo bed offers is an exclusive lockable 7.3-cubic-foot in-bed trunk that you can use to store items that you would want to separate from the rest of your cargo e.g. dirty gloves or boots. This hidden trunk also has drain plugs, so it can double up as an ice chest where you can store your drinks.

For a more comprehensive 2018 Honda Ridgeline Overview, come to Honda of Bellingham. We are located at 2010 Iowa Street, Bellingham, WA 98229. We at Honda of Bellingham can also organize a test-drive for you in this truck so that you can get a first-hand feel of how it drives. We can also organize affordable auto financing for you if you decide that you want to buy it.


© Copyright Content Motive, 2018.
All Rights Reserved. | Quality dealer content by Content Motive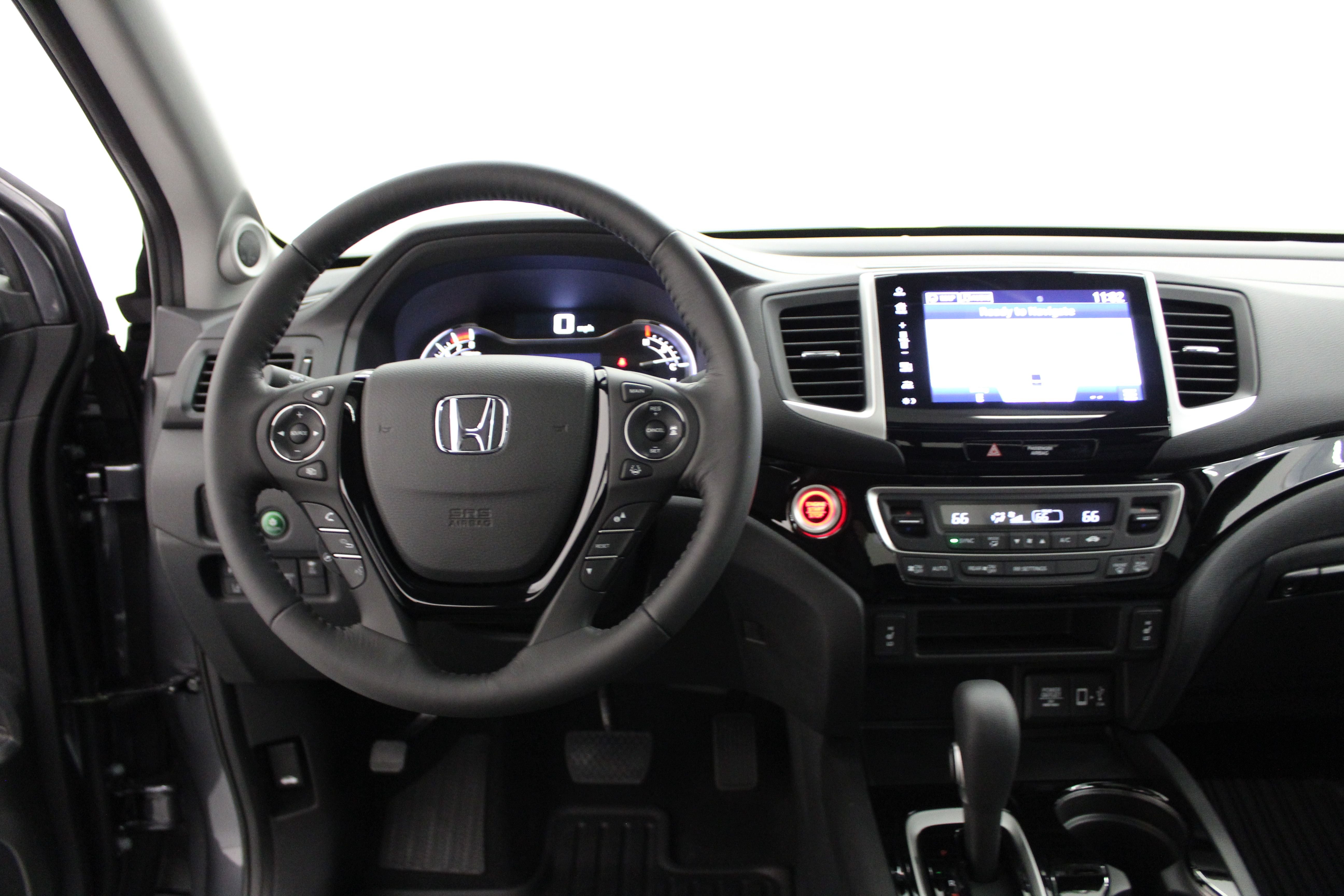 Power and technology combine in the 2018 Honda Ridgeline.